How will Germany spend the 100 billion euros it has pledged for boosting its defense spending?
Since Chancellor Olaf Scholz made the announcement shortly after Russia's invasion of Ukraine in late February, many analyses and suggestions have been offered as to how Germany will implement this decision that will see the spending of a vast amount of taxpayers' money.
Before the announcement of Scholz's plan, Germany ranked 7th in the world by military spending, as per 2020, having spent USD 52.8bn in that year alone.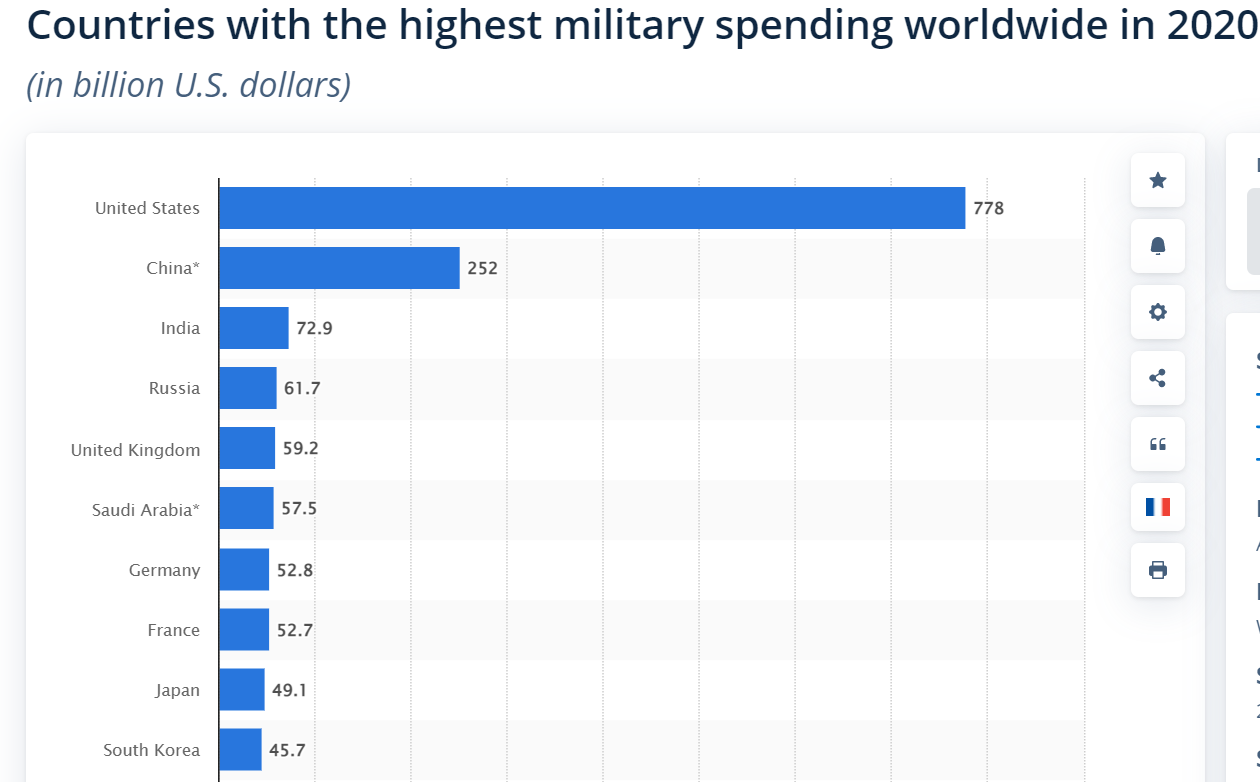 The realization of the proposal would represent the largest absolute jump in German military expenditure in recent history. Annual spending would increase by 50% in 2022 alone, making Germany one of the world's largest military spenders - 3rd, after the US and China.
Such a move might have significant political repercussions across Europe. Germany has been known to be particularly reluctant to make major military investments after the end of World War II, despite being Europe's largest economy. Now that this is about to change, other countries may follow suit, in order to strengthen the EU's defensive capabilities.
As the war in Ukraine has revealed, Europe has to be prepared to defend itself. To do that, the EU nations that are also NATO members will have to finally start meeting their annual defense budget targets of 2% of their GDP.
Current State of the German Army
Despite ranking among the leaders by overall defense budget, Germany does not seem to translate its financial power into sufficient equipment, finds a 2022 military strength report by Global Firepower.
For example, in terms of aircraft strength, Germany is 18th out of 142 counties with 617 total aircraft in the Bundeswehr.
As regards tanks, the figures are even less impressive. Germany's 266 tanks rank it in 52nd place, while its 80 naval assets place it in 35th in that department.
To make matters worse, a recent German parliamentary report on the military found that only 50% of some major hardware was working properly and lacked even basic equipment like bulletproof jackets and cold weather clothing to keep soldiers warm and dry.
According to military analyst Thomas Wiegold, even with the new funding Germany's armed forces will still be forced to play catch-up. "First and foremost, it means to finance what actually should be there already," he says.
"Things like modern fighter jets - this is just the start," Wiegold comments, referring to Germany's recent pledge to buy nearly three dozen F-35s from Lockheed Martin to replace its 40-year-old fleet of Tornado jets. "In addition, Germany needs to buy new tanks, weapons and warships, among many other things."
Years of neglect mean one other thing, though. That is, whether Germany's needs defined years ago are still relevant to today's situation.
Therefore, one of the key issues that Germany's Ministry of Defense will have to look at is whether the spending plans which were put in place years before Russia's invasion of Ukraine are still what the country needs after the invasion.
To this end, Germany launched a national security strategy process, the first country to undertake such an exercise while the Ukraine war is ongoing. They expect to have it ready early next year but questions are already being asked about whether the wishlist of big-ticket military items drawn up long before the war in Ukraine is still needed now.
In fact, according to data from the World Bank, Germany has ordinarily been spending much less than the agreed by NATO members 2% on defense since 2000.
The graph below shows that not once has the country risen above 1.4% in any year between 2000 and 2020.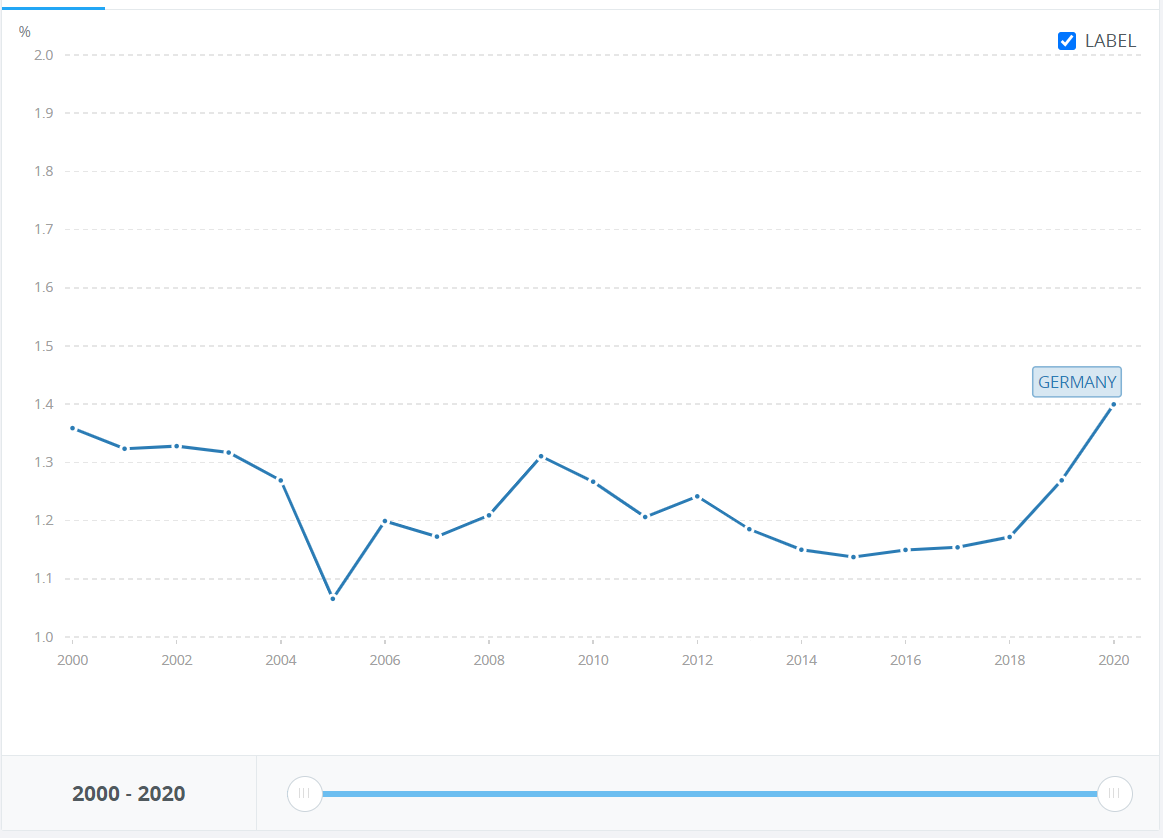 Planned Early Investment
At the time of writing, The Bundestag's budget committee was expected to give the green light to preliminary plans for spending a first tranche of 2.4bn euros out of the 100bn euros from the military fund. The defense ministry wants to spend the sum on new gear including more than 305,000 bulletproof vests, 150,000 combat uniforms, 122,000 helmets and 250,000 backpacks.
Even before the approval, in a separate, but still connected to Germany's changed mindset deal, Chancellor Olaf Scholz's ruling coalition approved a defense ministry request to arm German drones by purchasing ammunition worth 152m euros from Israel's state-run Rafael Advanced Defense Systems Ltd.
The move will satisfy the Bundeswehr's age-long demand to arm drones in order to protect soldiers during missions abroad and back up military convoys in dangerous terrain.
Lawmakers on the lower house of parliament's defense committee approved the government's request to purchase 140 rockets to arm the Heron drones. Sixty rockets will be purchased for training purposes and 80 for possible use in combat.
Challenges and Expected Changes in Germany's Public Procurement Processes
Two and a half weeks after Scholz's announcement, the German Finance Minister, Christian Lindner, presented a revised draft budget for 2022 along with a draft law creating a special fund to the cabinet.
After cabinet approval, the revised draft budget was handed over to the German Parliament to be debated and amended. It is expected to pass by June.
Crucially, the 100bn euros is not intended to be spent in one go but, instead, over several years.
Alexandra Marksteiner - Researcher in the Stockholm International Peace Research Institute (SIPRI) Military Expenditure and Arms Production Programme - estimates that the funds in the Sondervermögen fund would be depleted by mid-2025, giving a timeframe of around three years for the implementation of Scholz's plans.
However, this seems like a pretty short period of time, given some long-overlooked issues.
To begin with, if the 100bn euros is to be spent within only three years, the institutions are likely to feel pressured to take quick and, perhaps, not the most efficient decisions.
Procurement projects are notorious for being overlong and drawn-out; that holds especially true for major equipment such as naval vessels and next-generation combat aircraft. Rushing the process would deprive the Bundeswehr of long-term planning security and may lead to money being hastily spent on inefficient, under-performing and incompatible systems.
According to the 2021 German Armament Report, project delays have further increased to an average of 49 months compared with the first parliamentary referral. Cost ran on average around 14bn euros or around 25% higher than the estimate at the start of the project.
To address this issue, The German Federal Ministry of Defense now intends to make use of an exemption from EU procurement law under Article 346 (1) of the Treaty on the Functioning of the European Union (TFEU) wherever possible to shorten procurement procedures.
According to Art 346(1) TFEU, any EU member state may take measures as it considers necessary for the protection of the essential interests of its security which are connected with the production of or trade in arms, munitions and war material.
By relying on Art. 346 (1) TFEU the Government can enter into sole-source agreements with suppliers which are not subject to a legal review process by the procurement law tribunals and the Courts.
In the past, several projects faced roadblocks because bidders or competitors litigated against decisions taken by the German Defense Procurement Agency (BAAINBw) which led to postponements of contract awards.
Another change to the defense procurement law that is a matter of time, stipulates that in the future, orders with a value of up to 5000 euros can be awarded without tender. Although this does not affect the acquisition of hard armaments, investments of up to 5000 euros account for about 25% of all procurement orders placed by BAAINBw.
Another challenge lies in that the budget increase requires a large amount of bureaucratic resources. If there will be another 100bn euros at the Ministry of Defense's disposal, it will have to recruit and train new personnel and reform old processes in virtually no time.
Finally, there is no guarantee whatsoever that Scholz's bill will pass in its current form, which means that the Chancellor will either have to abandon his plans or draw up a revised bill, which would further lengthen the process.
How to Stay Updated?
Regardless of the form it takes, the proposed increased defense spending by Germany will happen sooner or later. Therefore, it is becoming increasingly important to follow the development of this topic for multiple reasons, including monitoring the government's spending of public money and the geopolitical effects of Germany's decision to bolster its defense budget.
We expect the media to cover the large projects that will be launched and funded from the Sondervermögen.
To handle the sheer number of news stories that will break out, TenderAlpha's Global Defense and Military Contracting News feed will offer a reliable repository of articles that will be collected from respectable generic and specialized media sources.
The feed will allow its users to track every news story related to the procurement of military equipment by Germany. This will enable them to analyze the companies that are proving to be the preferred government suppliers and understand the government's needs based on the tenders it launches.
Large contracts tend to receive extensive media coverage. But what about smaller tenders?
Details about public contracts, especially smaller ones, are quite difficult to find…unless you dig into specialized public procurement websites - a time-consuming affair, to say the least.
In fact, TenderAlpha does just that. We go through multiple official government sources to extract data about contract awards, harmonize it internally, and present it in an easy to understand format to our clients.
In the case of Germany, we expect that tenders will be issued for smaller pieces of military equipment, for example bulletproof jackets and cold weather clothing. The launch of these, as well as their award, enters TenderAlpha's data feed within up to 24 hours of publication.
The valuable information of what is being required by the army and who supplies it, could be of interest to a number of stakeholders, such as private companies who may want to participate in future tenders or perhaps start partnerships with established suppliers; or even for investors who are looking for opportunities.
For more information on how you can use our products, get in touch here.