Earlier this year, we drew your attention to Axon Enterprise's growing stock price. Based on our hypothesis - confirmed by our recent study on government receivables as a stock market signal - we suggested that there might be a connection between Axon's increasing stock price and the company's success in the federal procurement market.
Nearly a year later, we decided to check on Axon to see whether its stock price has continued to rise in accordance with the company's winning of government tenders.
Ongoing Public Procurement Success
In the second half of 2021, Axon was awarded the national tender to supply TASER conductive electrical devices (CEDs) to law enforcement agencies across Italy.
Under the terms of the contract, signed in early July, 4,482 TASER CEDs will be deployed to Italian forces of Polizia di Stato, Arma dei Carabinieri, and Guardia di Finanza by the end of the year.
Later on, in October, Axon announced that the Air National Guard, the reserve branch of the U.S. Air Force, renewed its TASER device program and deployed roughly 5,000 TASER X26P energy weapons to reserve troops.
Last but not least, Axon's UK subsidiary - Axon Public Safety UK - was selected by the Scottish government to provide Axon's digital evidence management solution, Axon Evidence. The decision is part of Scotland's commitment to invest in the development of a Digital Evidence Sharing Capability (DESC) for the country' s public safety authorities.
Axon's Recent Stock Price Movement
When we first wrote about Axon Enterprise in mid-February, the company had reached a peak in its stock price - USD 195.54.
While the remainder of the first half of 2021 proved to be difficult for the entire market, Axon included, the company managed to show resilience. It saw its stock price rise again to USD 176.65 on 8 November, up from USD 126.25 on 13 May.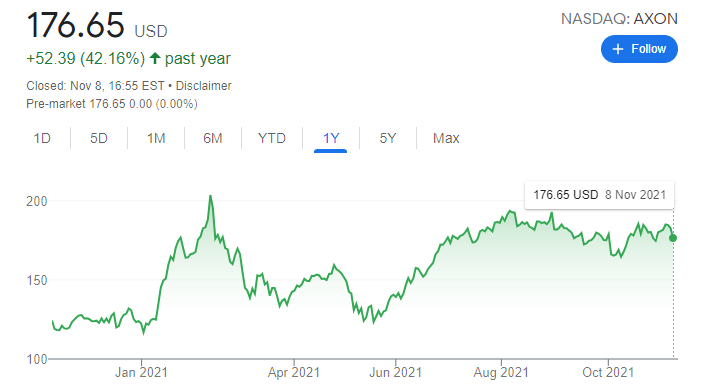 This new growth coincided with Axon's forays into the public procurement market. It is impossible to tell exactly how much of the stock price increase can be attributed to the awarding of the aforementioned tenders.
Yet, as noted at the beginning, government receivables could be a strong market signal. Therefore, we can hypothesize that Axon's booming government business is at least partly responsible for the company's climbing stock price.

This article was written by members of TenderAlpha's team and does not serve as a recommendation to buy Axon or any other stock. TenderAlpha is not receiving compensation for it and we have no business relationship with any company whose stock is mentioned in this article.