Bouygues derives one-third of its revenue from public contracts, as per the company's 2021 report.
In France, the company generated 26% of its revenue from government contracts, while internationally Bouygues made up 44% of its revenue from public contracts.
Figure 1: Bouygues Revenue Split by Type of Contract, France/International

Source: Bouygues 2021 Universal Registration Document
Bouygues 9M 2022 Performance Overview
Turning to Bouygues' overall performance for the first three quarters of 2022, the group's sales growth of 8% was driven primarily by the International segment (+17%) which now accounts for 43.5% of revenues. In comparison, growth in France was much more muted at +2%.
Figure 2: Bouygues 9M 2022 Revenue Developments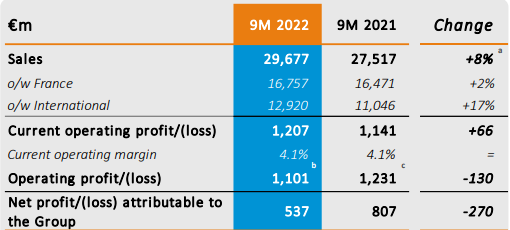 Source: Bouygues 9M 2022 Results Presentation
With regards to performance across divisions, the transportation infrastructure-focused segment Colas saw the highest growth of the group (+18% Y/Y). Likewise the group backlog grew by 7% Y/Y to €34.2bn thanks to a 30% Y/Y increase at Colas.
Growth at Bouygues Construction was modest at 2%, helped by international growth (+5%). Bouygues Immobilier saw sales decline by 5% due to low housing inventory. Overall, the operating margin of the three above-mentioned businesses (accounting for 75.5% of total group sales) was down 0.2% Y/Y to 2.3% due to inflation.
The Media segment saw Y/Y growth of 5% with the operating margin up by 0.2% to 13.5%.
The Telecom segment also saw sales growth of 5% and 1.7% improvement to the "EBITDA after leases / Sales to customers" ratio.
Bouygues' New Largest Segment
Out of the five main divisions reported by Bouygues, Colas is the largest at 38.8% of 9M 2022 revenues, Construction follows at 32.5%, Telecom is third at 18.6%, while Media and Immobilier have shares of 5.9% and 4.6% respectively.
However, a new segment is poised to become the largest in the group. Bouygues' acquisition of Equans (a former subsidiary of Engie) in Q4 of 2022 will make Energies & Services the company's largest division.
As a result of the acquisition, Bouygues' net debt will increase by about €6.5bn from €3.6bn.
How Can TenderAlpha Help You Monitor Bouygues' Public Procurement Activity
With TenderAlpha's Unified Government Contracts Data Feed, you can track at least 90% of Bouygues' government sales, given the feed's geographical coverage, which spans nearly 50 countries, including the entire EEA, the US, Canada, and Australia.
Bouygues' public procurement activity tends to be focused precisely in the aforementioned regions, with Africa and the Asia-Pacific geographies making up only some 10% of the company's revenue from government sales.
Looking to start the year with fresh intelligence about the role of public procurement in a company's financial performance? Contact us now to find the right dataset for you!