It has been well documented that companies maintaining continued success in public procurement, also enjoy more predictability in their cash flow, and are generally more financially stable in insecure times. As discovered in our 'Government Receivables as a Stock Market Signal' white paper, winning government contracts is also likely to have a positive impact on a company's stock price.
Therefore, we thought it would benefit our readers if we offered them detailed analyses of the financial results these major government contractors achieve.
In the third article of our new blog series, we will present you the Q4 results of General Electric, whose most recent highlight was the spin-off of its Healthcare unit.
Key points:
* GE Healthcare Technologies, which accounted for 25.1% of General Electric adjusted 2022 revenues, is now a stand-alone company.
* Ex-GE Healthcare organic revenue growth of 6% in 2022; high single-digit growth seen in 2023, driven by Aerospace.
* Ex-GE Healthcare free cash flow of $3.1 billion in 2022; improvement to $3.4-4.2 billion in 2023 on the back of stronger Aerospace performance, H2 strength in GE Vernova, and smaller interest expense.
* GE Vernova still a drag on profitability due to weakness in Renewables. Improvement expected in 2023 before profit returns in 2024.
* GE to discuss GE Vernova spin-off progress on March 9 Investor Day
General Electric Q4 Results Overview
General Electric reports results in four main operating segments, namely Aerospace at 35.3% of 2022 adjusted revenue, Renewables at 17.7%, Power at 22.1%, and Healthcare at 25.1%:
Figure 1: Results breakdown between segments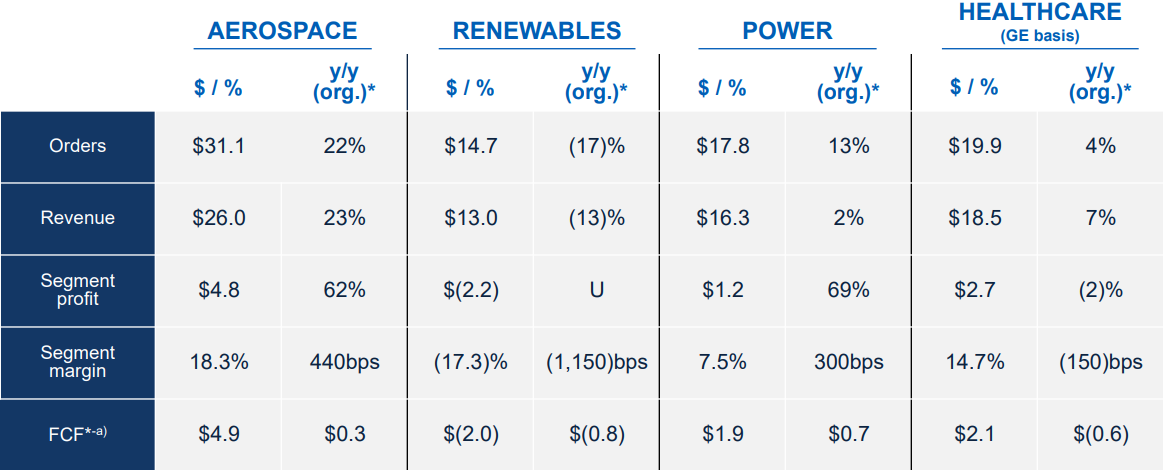 Source: General Electric 2022 Q4 Earnings Presentation
On January 3, 2023 the Healthcare unit successfully separated in a spin-off, distributing about 80.1% of shares to GE shareholders. The new company, GE Healthcare Technologies, trades under the ticker GEHC on the Nasdaq. General Electric retains a 19.9% stake in the new company.
The transformation leaves General Electric with two, roughly equally sized, segments - GE Vernova, which covers the Power and Renewables segments, accounting for 53% of GE-ex Healthcare revenues; and GE Aerospace with a share of 47% of GE-ex Healthcare revenues.
Operational Overview
Aerospace saw the strongest revenue growth in Q4, with sales increasing 25% Y/Y, surpassing the 22% growth in 2022. The profit margin was down from Q4 of 2021 (-1.2% to 18.8%) but improved relative to the 18.3% recorded in 2022. The segment benefited from both higher commercial and military sales.
Renewables was the weakest segment for the company, both in Q4 and in 2022. The 19% Q4 Y/Y revenue decline marked an acceleration to the 17% drop recorded in 2022. The loss margin was also worse on a Y/Y basis in Q4, dropping 5.9% to -13.3%. However, this was an improvement compared to the -17.3% recorded in 2022. The segment suffered from offshore wind weakness, higher warranty expenses and inflation pressures.
Power delivered 8% Y/Y revenue growth in Q4, a marked improvement to the 4% sales decline recorded in 2022. The profit margin also increased substantially in Q4, up 7.2% Y/Y to 13.8%. This also marked an improvement relative to the 7.5% recorded in 2022.
Healthcare saw 7% Y/Y revenue growth in Q4, an acceleration to the 4% growth in 2022. The profit margin was down marginally Y/Y (by 0.3% to 16.2% in Q4). Still, this was better than the 14.7% in 2022. Growth was driven by the Products subdivision, which saw 13% Y/Y growth, while Services revenue dropped 2%.
On a company level, adjusted revenue grew 11% Y/Y in Q4, above the 6% growth recorded in 2022. The adjusted profit margin was also up 2.9% Y/Y to 10.3% in Q4, above the 7.9% in 2022.
Excluding GE Healthcare, adjusted EPS was $0.77/share. Organic revenue growth was 6% and free cash flow came in at $3.1 billion.
2023 Outlook
Given the substantial corporate transformation for GE, the outlook is the main point of attention in the report:
Figure 2: General Electric 2023 outlook excluding GE Healthcare Technologies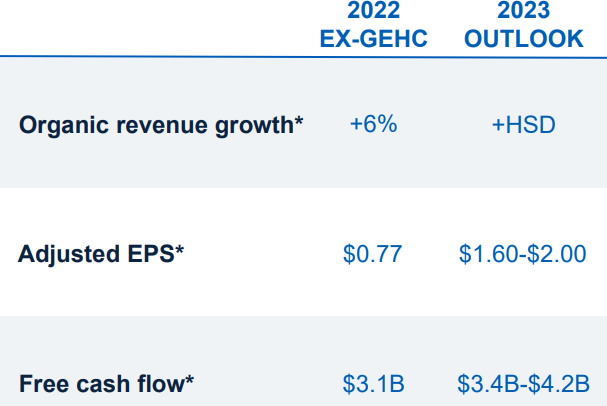 Source: General Electric 2022 Q4 Earnings Presentation
Revenue growth is seen at high single digits, in line with 2022 performance. Adjusted EPS should see a substantial boost to $1.60-2/share, with adjusted profit between $4.2-4.8 billion.
The Aerospace business is running at 90% of 2019 levels, and should deliver a full 2019-level recovery later in 2023. This bodes well for the segment's revenue:
"With Commercial Engines growing at about 20% and services at high teens to about 20%, plus Military growing at a high single-digit rate, we expect total Aerospace revenue to be in the mid-to-high teens."
Source: General Electric Q4 2022 Earnings Call Transcript
The Power and Renewables businesses at GE Vernova should see low-to-mid-single digit sales growth, with acceleration expected once the Inflation Reduction Act is fully implemented.
Free cash flow should benefit both from volume growth in GE Aerospace as well as loss reduction at GE Vernova. Growth of at least 10% is expected to $3.4-4.2 billion, also driven by lower interest expenses.
GE Healthcare Technologies, in which GE still holds a 19.9% stake, should deliver organic sales growth of 5-7%. Margins are forecast to improve, with Adjusted EPS growing at 7-11%.
General Electric will hold an Investor Conference on 9 March. Progress and timeline for the planned GE Vernova spin-off will be discussed.
Conclusion
General Electric's transformation is in full swing. While GE Healthcare was the company's highest margin division, GE continues to grow thanks to the aerospace recovery to 2019 levels. This sets the stage for GE Vernova to return to profitability in 2024 as the renewables market benefits from the Inflation Reduction Act.
Given the dynamic nature of General Electric's government business, monitoring public procurement activity remains a smart move that can provide key insights into the company's financial health.
To learn more about the ways in which TenderAlpha can provide you with insightful public procurement data, get in touch now!
This article was written by members of TenderAlpha's team and does not serve as a recommendation to buy General Electric or any other stock. TenderAlpha is not receiving compensation for it and we have no business relationship with any company whose stock is mentioned in this article.