It has been well documented that companies maintaining continued success in public procurement, also enjoy more predictability in their cash flow, and are generally more financially stable in insecure times. As discovered in our 'Government Receivables as a Stock Market Signal' white paper, winning government contracts is also likely to have a positive impact on a company's stock price.
Therefore, we thought it would benefit our readers if we offered them detailed analyses of the financial results these major government contractors achieve.
In the tenth article of our new blog series, we will present you the latest results of Northrop Grumman. The renowned aerospace and defense technology company made 86% of its sales to the U.S. Government in 2022, which highlights its established position in government contracting.
Key points:
* 86% of 2022 sales to U.S. government;
* 16% Y/Y revenue growth in Q4 and 2.6% for the full year. All segments up in Q4, with Space (+23%) and Defense (+20%) leading;
* Adjusted free cash flow $1.6 billion in 2022. Capex ramp-up in 2023 and 2024 before target of >$3 billion in 2025;
* 4.4% revenue growth projected for 2023 to $38.2 billion, driven by Space Systems and Mission Systems. Operating margin seen down 20 basis points (2022 – 11.6%);
* 3.5% growth in backlog to $78.7 billion. 48.2% of total backlog in Space Systems.
Northrop Grumman Q4 2022 Results Overview
Northrop Grumman reports results in four main operating segments, namely Aeronautics Systems at 27.5% of Q4 2022 revenues, Defense Systems at 16.5%, Mission Systems (cyber, radar, sensors, communications and networks) at 29.2% and Space Systems at 32.7%:
Figure 1: Q4 2022 Northrop Grumman segment revenues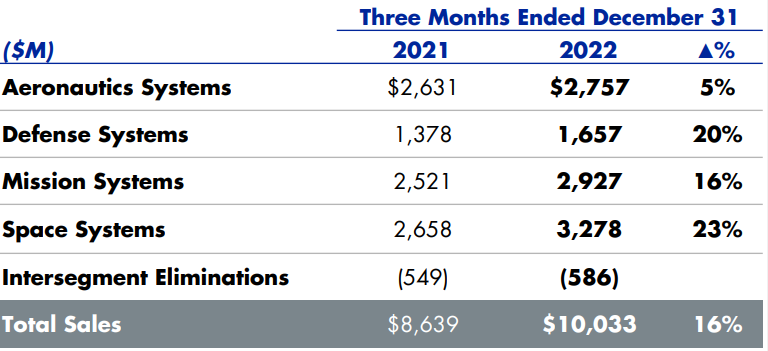 Source: Northrop Grumman Q4 2022 Form 10-K
Operational Overview
Aeronautics Systems delivered 5% Y/Y revenue growth in Q4, an improvement to the 6.3% sales decline in 2022. The operating margin (OM) was 10.5%, marginally below the 10.6% for 2022.
Defense Systems was the second-strongest performer in the quarter, with sales up 20% Y/Y, a marked improvement to the 3.4% revenue decline in 2022. The OM was 11% in Q4, below the 11.9% in the full year.
Mission Systems registered a 16% Y/Y revenue increase in Q4, again better than the 2.6% growth rate for 2022. The OM was 15.4% in Q4, slightly below the 15.6% in 2022.
Space Systems was the strongest segment in Q4 with a 23% Y/Y sales increase, ahead of the 15.7% 2022 growth rate. Relative to 2020, this is the fastest growing segment with other segments stagnating (Mission systems) or outright declining (Aeronautics Systems & Defense Systems). The OM was 9.1% in Q4, below the 9.4% in 2022.
Overall, all segments except Aeronautics registered Y/Y OM declines in Q4. Despite strong revenue growth, Space Systems remains the lowest margin segment.
On a consolidated basis, revenues increased 16% Y/Y in Q4 and 2.6% for the full year. The operating margin was 11.3% in Q4 and 11.6% for 2022. Adjusted free cash flow was $1.6 billion
in 2022, down from 2.2 billion in 2021, despite strong generation in Q4 ($1.7 billion). Adjusted EPS was $7.5/share in Q4, up 25% Y/Y due to lower effective tax rate, and $25.54/share in 2022, down 0.3% Y/Y.
Northrop Grumman 2023 Outlook
In line with the strong Q4 performance, Northrop Grumman expects further improvement in 2023:
Figure 2: Northrop Grumman 2023 Outlook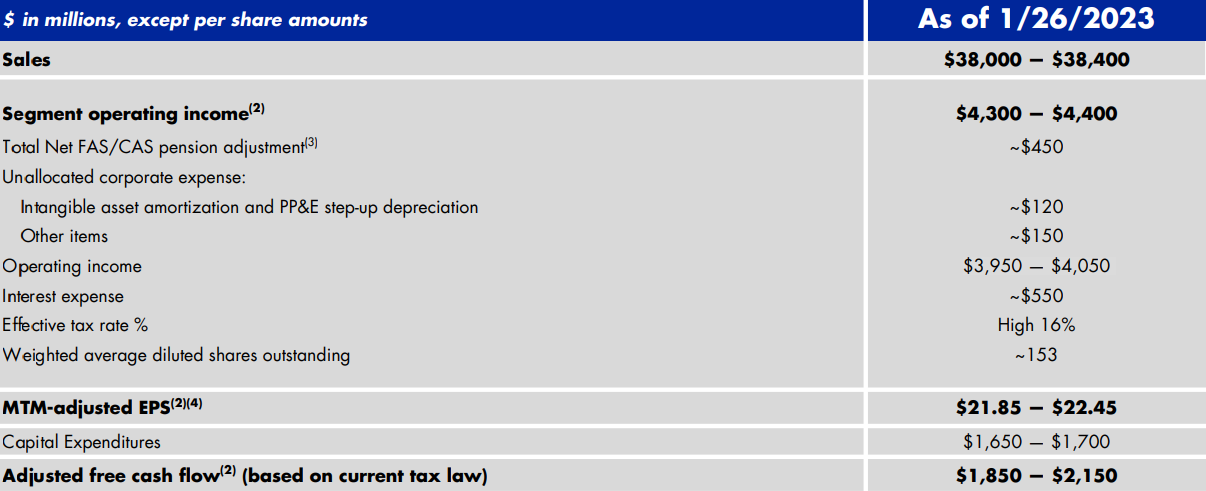 Source: Northrop Grumman Q4 2022 Results Presentation
Revenues are expected to increase by 4.4% to 38.2 billion, driven by Space Systems and Mission Systems, with Aeronautics Systems and Defense Systems flat relative to 2022. Margins are seen down 20 bps on macroeconomic, supply chain and inflation headwinds.
Adjusted EPS is seen declining around 13% to $21.85-22.45/share, with lower pension income outweighing revenue growth.
Adjusted free cash flow is expected at around $2 billion, still below 2021 levels. The company is increasing capital expenditures 16.7% in 2023 to meet rising demand from new business wins in 2022. Capex is expected to be flat in 2024 before declining into 2025. This should drive free cash flow to above $3 billion in 2025.
Backlog
Total backlog grew 3.5% in 2022 to $78.7 billion with a book to bill ratio of 1.07. Strongest growth was in Aeronautics Systems and Defense Systems, while Space Systems accounts for 48.2% of total backlog.
Capital Structure
Northrop Grumman ended 2022 with a net debt of about $10.3 billion. With a market capitalization of $72 billion the debt is very manageable, especially in light of rising free cash flow expectations.
Conclusion
Northrop Grumman is set to see continued revenue growth, especially in its Space Systems division. The caveat is that this is the company's lowest margin business. Nevertheless, despite projecting a mid 9% operating margin for the segment this year, management reckons there is room for improvement post-2023.
Overall, 2023 and 2024 are set to be years of building capacity (employee headcount already up 7% in 2022) before higher cash flows materialize starting in 2025, as discussed on the conference call:
"And while we're at it, as we think about this outlook for free cash flow, the foundation is set for strong free cash flow beyond this three-year period. The second half of this decade will have more programs moving to production, fewer of these upfront investments required to do so. The foundation we've laid over the last several years of capital investment is going to pay off in the second half of this decade on many of those programs. And so that's a healthy environment for continued growth in free cash flow as well as the continuation of the R&D tax amortization rolling off as a headwind."
In light of the fact that 86% of Northrop Grumman sales were to the U.S. government in 2022, monitoring public procurement activity remains a smart move that can provide key insights into the company's financial health.
To learn more about the ways in which TenderAlpha can provide you with insightful public procurement data, get in touch now!
This article was written by members of TenderAlpha's team and does not serve as a recommendation to buy Northrop Grumman or any other stock. TenderAlpha is not receiving compensation for it and we have no business relationship with any company whose stock is mentioned in this article.