It has been well documented that companies maintaining continued success in public procurement, also enjoy more predictability in their cash flow, and are generally more financially stable in insecure times. As discovered in our 'Government Receivables as a Stock Market Signal' white paper, winning government contracts is also likely to have a positive impact on a company's stock price.
Therefore, we thought it would benefit our readers if we offered them detailed analyses of the financial results these major government contractors achieve.
In the ninth article of our new blog series, we will present you the latest results of Oshkosh – a global leader in the design, production and sustainment of military vehicles and mobility systems.
Key points:
* 23% Y/Y revenue growth in Q4 and 4.1% for 2022. Sales seen up 1.4%, driven by Access Equipment;
* Fire & Emergency and Commercial segments to combine into new Vocational segment targeting $3 billion in revenues and a >12% operating margin;
* Operating income to return to 2021 levels on improving margins. EPS expected at 5.50/share;
* 52.3% backlog growth to a record $14.1 billion, 44.6% of which in the Defense segment. JLTV contract loss to impact Defense segment post 2024.
* Very conservative capital structure with a net cash position of $200 million at year end.
Oshkosh Q4 2022 Results Overview
Oshkosh reports results in four main segments, namely Access Equipment at 48.7% of Q4 2022 revenues, Defense at 24.9%, Fire & Emergency at 13.6%, and Commercial at 12.8% of Q4 2022 revenues:
Figure 1: Q4 2022 Oshkosh segment revenues

Source: Source: Oshkosh Q4 2022 Form 8-K
Going forward, the Fire & Emergency segment and the Commercial segment will be combined into a new segment called Vocational. As announced in the Q4 earnings release:
"The segment will be focused on designing, developing and manufacturing purpose-built vocational vehicles and we expect to drive enhanced efficiencies while better leveraging our scale in technology development at an accelerated pace. We believe the Vocational segment will also serve as a platform for further organic and inorganic growth opportunities in several important end markets. We expect the Vocational segment's revenues to grow at a high single digit compound annual growth rate to $3 billion with over 12 percent operating margins over the next few years."
Oshkosh also plans to divest its rear discharge concrete mixers business which is a subcomponent of the Commercial segment. Annual sales impact from the sale will be about $150 million or 1.8% of 2022 revenues.
Oshkosh Operational Overview
Access Equipment delivered 28.9% Y/Y sales growth in Q4, ahead of 18.9% growth for the full year. Growth was driven by Telehandlers. The operating income margin was 10.8% in the quarter.
Defense sales grew marginally by 3% Y/Y in Q4, an improvement to the 14.6% drop reported in 2022. The operating income margin was 4.7% in the quarter, adjusted for impairments.
Fire & Emergency delivered the strongest growth in Q4, with revenues up 37.2% Y/Y. For the full year sales were down 5.1%. The operating income margin was 7.9% in the quarter.
Commercial was the second best performer in Q4 – sales increased 34.3% Y/Y. This was an improvement to the 11.7% growth in 2022. The operating income margin was 6.3% in the quarter.
All four segments registered Y/Y improvements in operating income margins.
On a consolidated basis, revenues were up 23% in Q4 and 4.1% for the full year. The adjusted operating income margin was 6.9% in Q4, an improvement to the 4.6% for the full year. Adjusted EPS was $1.60/share in the quarter and $3.46 for the full year.
Joint Light Tactical Vehicles
Post 2022 earnings release, news came out regarding a contract for Joint Light Tactical Vehicles (JLTV). The $8.66 billion contract is set to go to competitor AM General. The silver lining, if any, is that Defense is Oshkosh's lowest margin segment and the profitability drag will be somewhat limited. Furthermore, the lost bid concerns production after 2024. Last but not least, Oshkosh will continue to produce Heavy and Medium Tactical Vehicles for the army.
2023 Outlook
Oshkosh expects revenues of $8.4 billion in 2023, up 1.4% on 2022 (or 3.3% adjusted for concrete mixer disposal). Operating income is expected at 530 million, up 42.5% relative to 2022 but flat compared to 2021. In line with operating income growth, EPS should grow 59% to $5.50/share. Across segments, Defense revenue is the only one expected to contract in 2023:
Figure 2: Oshkosh segment outlook for 2023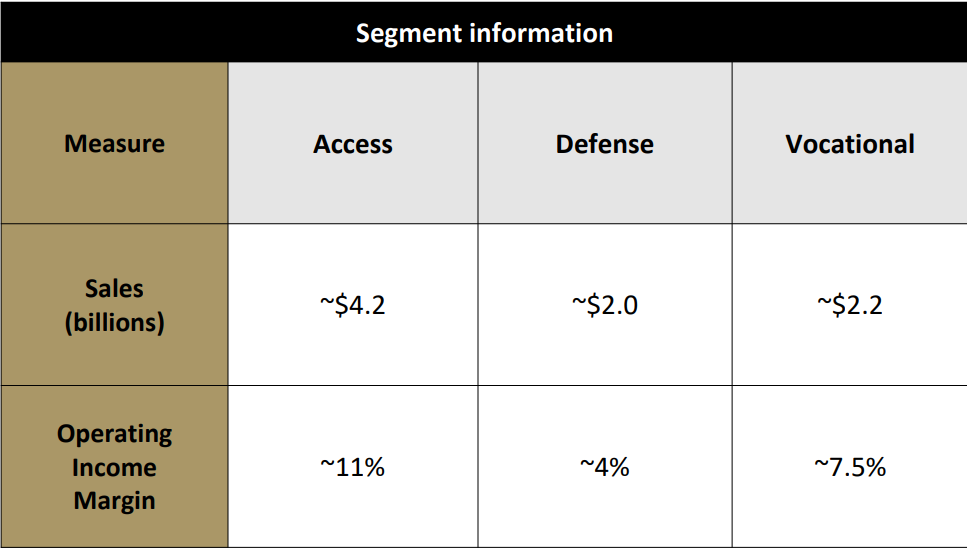 Source: Oshkosh Q4 2022 Results Presentation
Backlog
Oshkosh saw strong backlog growth across all segments except Commercial. Total backlog grew 52.3% Y/Y to $14.1 billion, with Defense up 78% Y/Y to $6.3 billion. Following the steep rise, the Defense backlog now accounts for 44.6% of all company backlog.
Capital Structure
Given the cyclical nature of Oshkosh's business, a capital structure with a low debt mix is highly preferable. The company ended 2022 with a net cash balance of $200 million and is ideally prepared to weather any economic downturn in 2023 and beyond.
Conclusion
The new Vocational segment is expected to reach some 3 billion in sales over the next few years. This should compensate the loss of the JLTV contract. Furthermore, given the higher margin nature of the Vocational business (targeted margin of >12% three times higher than Defense), EPS should actually improve over the coming years.
Considering the substantial business Oshkosh does with government agencies, monitoring public procurement activity remains a smart move that can provide key insights into the company's financial health.
To learn more about the ways in which TenderAlpha can provide you with insightful public procurement data, get in touch now!
This article was written by members of TenderAlpha's team and does not serve as a recommendation to buy IBM or any other stock. TenderAlpha is not receiving compensation for it and we have no business relationship with any company whose stock is mentioned in this article.