It has been well documented that companies maintaining continued success in public procurement, also enjoy more predictability in their cash flow, and are generally more financially stable in insecure times. As discovered in our 'Government Receivables as a Stock Market Signal' white paper, winning government contracts is also likely to have a positive impact on a company's stock price.
Therefore, we thought it would benefit our readers if we offered them detailed analyses of the financial results these major government contractors achieve.
In Part 13 of our new blog series, we will present you the latest results of Pfizer.
Key points:
* Record $100.3 billion revenue in 2022, up 23.4% Y/Y. 31.2% drop expected in 2023 driven by weakness in COVID-19 treatments;
* Adjusted EPS of $6.58/share in 2022, up 62.1% Y/Y. 49.1% decline anticipated for 2023 amid increasing spending to roll out new products;
* Comirnaty and Paxlovid made up 54.2% of all sales in 2022. Contribution expected to decline to 31.2% in 2023. Demand pickup anticipated in 2024+ on combined flu/COVID-19 shots and higher Paxlovid sales;
* Non-COVID treatment revenues seen at $70-84 billion by 2030, with new molecules and M&A offsetting loss of exclusivity and generics;
* R&D spending of $11.4 billion in 2022, expected to increase by 8.7% in '23. Net debt of just $13.1 billion despite $26 billion spent on M&A in 2022.
Pfizer Q4 2022 Results Overview
Pfizer reports results in three main segments, namely Primary Care at 71.4% of Q4 2022 revenues, Specialty Care at 14.7% of Q4 2022 revenues and Oncology at 12.4% at of Q4 2022 revenues:
Figure 1: Q4 2022 Pfizer segment revenues

Source: Pfizer Q4 2022 Earnings Release
The three main segments above make up the Global Biopharmaceuticals business while the Pfizer CentreOne reporting line (1.5% of total Q4 2022 revenues) encompasses the company's global contract development and manufacturing organization and supplies of specialty active pharmaceutical ingredients.
Operational Overview
Primary Care was the strongest segment in Q4, with sales up 7% Y/Y in the quarter, a marked deceleration to the 40.4% growth rate for 2022.
Specialty Care suffered the steepest drop in the quarter, with revenues declining 10.6% Y/Y, worse than the 9% drop for the full year.
Oncology recorded a 7.2% Y/Y sales drop in Q4, again a deterioration on the 1.6% decline in 2022.
On a consolidated basis, revenues increased 1.9% in Q4 Y/Y and 23.4% in the full year. Adjusted Diluted EPS was 1.14/share in Q4 (up 44.3% Y/Y) and 6.58/share in 2022 (up 62.1%).
Pfizer 2023 Outlook
2023 will be a year of post-COVID19 normalization for Pfizer. The vaccine Comirnaty and antiviral Paxlovid accounted for 54.2% of all revenues in 2022 and are set to see a marked decline in sales. On the other hand, excluding COVID-19 products, the company should see top-line growth of 7% to 9% before foreign exchange impacts. Combining the two offsetting factors, the net result is expected to be a drop in sales of about 31.2%:
Figure 2: Pfizer 2023 Outlook

Source: Pfizer Q4 2022 Results Presentation
Adjusted diluted EPS decline is expected to outpace revenues, dropping 49.1% to $3.25 – 3.45/share. The EPS forecast incorporates higher spending to support anticipated near-term launches and greater investments in certain late-stage pipeline projects.
Comirnaty revenues are seen down 64% Y/Y to $13.5 billion. Paxlovid revenues are seen at $8 billion, down 58% Y/Y. Thus, the COVID-19 share of treatments should decline from 54.2% of total to 31.2% of total Pfizer revenues. The company highlights the great uncertainty relating to the COVID-19 treatments forecast amid changes to the distribution model from a government-procured to a commercial-centred approach in H2 2023.
R&D spending is set to increase by at least 8.7% to $12.4-13.4 billion.
Longer-term outlook
Looking further ahead, Pfizer expects to be able to more than offset negative impacts from Loss of exclusivity (LOE) and generic drugs (estimated at $17 billion), with currently anticipated ex-COVID19 revenues of $52 billion in 2025 growing to a range of $70-84 billion in 2030:
Figure 3: Pfizer 2030 Non-COVID Outlook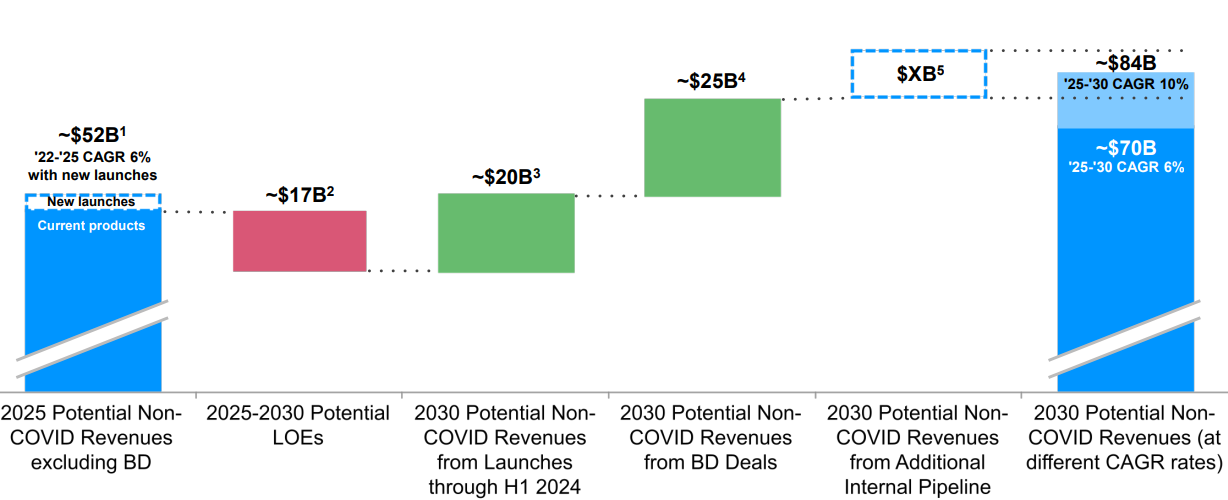 Source: : Pfizer Q4 2022 Results Presentation
Main growth drivers are expected to be new molecular entities (NME) with a contribution of $20 billion and $25 billion from business development (BD) deals.
On the COVID-19 front, the company expects Comirnaty sales to pick up in 2024 and beyond, thanks to a COVID/Flu combo vaccine. Paxlovid treatments courses are also seen increasing, from 12 million in 2022 to 21 million in 2025, driven by lower vaccination rates and commercial availability.
Capital Structure
Pfizer enters the post-pandemic period with a fortress balance sheet. Net debt is just $13.1 billion against a market capitalization of $228.2 billion. This should give the company ample flexibility to deploy capital against the highly uncertain COVID-19 treatment outlook.
Acquisitions
In 2022, the company spent $11.4 billion on internal R&D as well as about $26 billion to acquire Arena, Biohaven, Global Blood Therapeutics and ReViral, which are expected to bring in $10.5 billion in revenues by 2030.
Conclusion
With the acute pandemic phase of COVID-19 behind us, Pfizer is making the investments to drive future growth outside of COVID-19 treatments. While the company is unlikely to beat its 2022 revenue milestone of $100.3 billion in the medium term, disciplined R&D spending coupled with selective M&A opportunities should put the company on course to reach the $100 billion revenue high water mark in the 2030s.
Despite a negative near-term revenue outlook, the company is increasing spending in 2023 to lay the foundation of a return to growth in 2024 and beyond. With revenue increasing again, margins should improve relative to 2023 as well.
In light of the rapidly evolving revenue outlook for Pfizer, monitoring public procurement activity remains a smart move that can provide key insights into the company's financial health.
To learn more about the ways in which TenderAlpha can provide you with insightful public procurement data, get in touch now!
This article was written by members of TenderAlpha's team and does not serve as a recommendation to buy Pfizer or any other stock. TenderAlpha is not receiving compensation for it and we have no business relationship with any company whose stock is mentioned in this article.