Tetra Tech, Inc. (TTEK) is an American consulting and engineering services firm. The company supports global commercial and government clients focused on water, environment, sustainable infrastructure, renewable energy, and international development.
Tetra Tech is also a regular federal contractor. The company has been awarded over 6000 government tenders in the last 11 years. As a specialist in environmental engineering, it has had a significant part of its attention directed towards green public procurement. As a result, Tetra Tech has been awarded on average over 200 green tenders per year between 1 January 2010 and 31 December 2020.
In parallel, the last 5 years has seen the company's stock price increase by over 300%, beating the Nasdaq Composite Index, whose growth between September 2016 and September 2021 was 177%.
Success in Green Public Procurement
Green contracts make up over 56% of all the tenders Tetra Tech has successfully bid for in terms of total tender count, as per Table 1.
With the exception of years 2017 and 2018 only, over half of the contracts won by Tetra Tech are considered green. Again, 2020 was a champion in this respect when 70% of the 352 contracts awarded to Tetra Tech, fell under the green category.
Table 1: Tetra Tech's percentage of green tenders (by count out of all tenders awarded 1 Jan 2010 - 31 Dec 2020
Source: TenderAlpha.com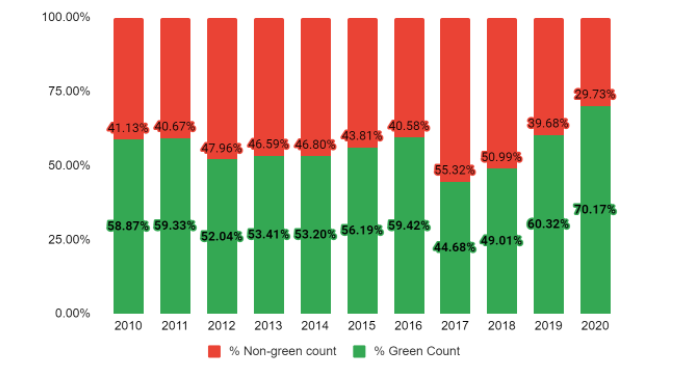 Stock Price Movement
Tetra Tech has recorded an increase of 323.15% in its stock price over the five-year period between 21 October 2016 and 19 October 2021. The company started the period with its stock price sitting at USD 38.40 and closed the day on 20 September 2021 at USD 162.49, as Figure 1 shows.
Figure 1: Tetra Tech stock price movement 21 Oct 2016 - 19 Oct 2021
Source: Google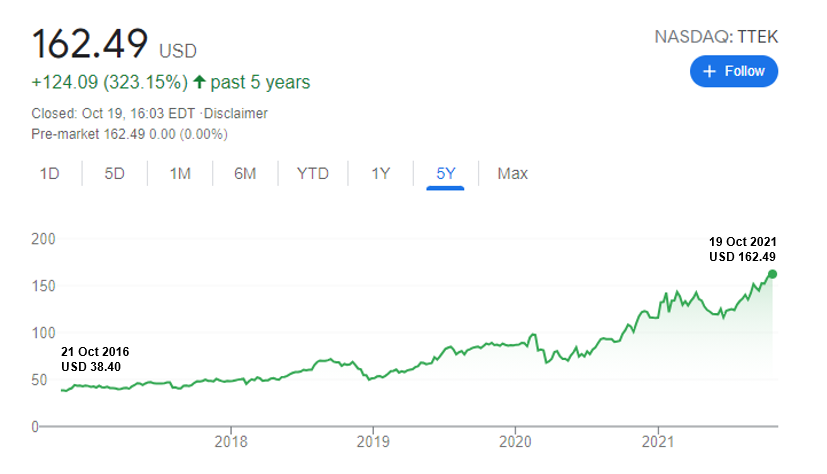 Conclusion
Tetra Tech's rising stock price is a good example of how a company can capitalize on the growing interest in ESG investing, as various studies show that investors are increasingly willing to put their dollars in companies whose activities contribute to the preservation of the environment and its sustainable development.
At the same time, the fact that Tetra Tech has been successful in bidding for federal contracts that can be considered environmentally-friendly hints at a possible connection between a company's stock price and the government business it delivers, especially with regards to green contracts. A similar hypothesis has been made and tested by TenderAlpha.com previously and our team has discovered that government receivables could be a strong stock market signal.
TenderAlpha.com has recently developed the world's first global green procurement database specifically designated for ESG analysis. It contains information about more than 4.5 million public contracts from 2010 onwards, as well as ticker-mapped data for over 1000 publicly-listed companies and another over 300,000 private companies that have been awarded at least one green tender since 2010. The presence of this database and its continuous improvement represent TenderAlpha.com's ongoing efforts to prove the relationship between government receivables and stock price movement. For more information about our product and services, contact us here.

This article was written by members of TenderAlpha.com's team and does not serve as a recommendation to buy Tetra Tech or any other stock. TenderAlpha.com is not receiving compensation for it and we have no business relationship with any company whose stock is mentioned in this article.